Interview with Pauline Baird Jones
The Blog Ring of Power Presents...
An Interview with Author Pauline Baird Jones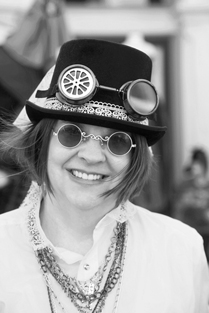 Today author and fellow Broad Universe member Pauline Baird Jones stopped by to talk about the creative process and her latest book, KICKING ASHE - Book 6 of the Project Enterprise series. Pauline's interview had me in stitches - be sure to visit all of the BRoP sites for the complete interview.

This is part five of a five-part interview. Be sure to check out the other BRoP sites for the rest of the interview: Part 1 Part 2 Part 3 Part 4

BRoP: Tell us about your route to success –how did you land your agent/publisher?


Pauline: I often call myself "the little writer that did." I even have a little article about it on my website. (http://www.paulinebjones.com/the-little-writer-that-coul.html) I did everything "wrong," but have been very happy with my path to publication. I burned through two agents along the way, mostly because I mixed my genres too much for a NY publisher. You see genre mixing more now, but I think they still have trouble with books they can't clearly shelf in one genre or another. I'm not quite romance because I don't write sex scenes, though I love happy endings AND romance. My suspense had too much action/adventure and of course, my science fiction has girl cooties. LOL!

Basically, I contracted with a digital publisher in 1998, when it wasn't cool to be digitally published. I spent way too much time trying to explain how to read my books, than I did talking about what they were about. My first novel, PIG IN A PARK, now known as THE SPY WHO KISSED ME, was the first digital novel to be nominated for an RT Book Reviews Reviewers Choice award and it was nominated with six, best selling NY authors, so that was very cool. My second novel, THE LAST ENEMY, was the first digital novel to win an RT Book Reviews Reviewer's choice award. Also cool. And helped me get my agent. Who later found me too frustratingly mixing my genres and unable to focus on one genre or another. LOL! We parted amicably and I've been managing my own career since then.

Twelve books later, with some additional awards under my belt, I find myself quite content with my lot. :-)


BRoP: What are the most important elements of good writing?
Pauline: Good story telling and grasp of craft. But if you can't tell a good story, it doesn't matter how well you write. I like a story that is polished and shows signs of care by the author.




BRoP: What tools are must-haves for writers?


Pauline: A computer and a good imagination.




BRoP: Do you have any advice for other writers?


Pauline: I used to tell other authors to "reject rejection" but with so many options out there now, authors already seem to know that. LOL! So I would say, remember your readers and always give them your best in storytelling and craft.


BRoP: Do you have anything specific that you want to say to your readers?
Pauline: I hope that I've given to my readers what so many wonderful authors have given to me: a fun adventure and escape from the real world.


Where can readers stalk you?

Website: http://www.paulinebjones.com
Blog: http://paulinebairdjones.blogspot.com/
Facebook page: https://www.facebook.com/AuthorPaulineBairdJones
Goodreads author page: http://www.goodreads.com/author/show/247227.Pauline_Baird_Jones
Twitter: https://twitter.com/#!/paulinebjones
Amazon: https://authorcentral.amazon.com/gp/profile
Google+: https://plus.google.com/u/0/117517921948256287348/posts
Pinterest: http://pinterest.com/perilouspauline/




BRoP: What format is your book(s) available in (print, e-book, audio book, etc.)?


Pauline: Trade paperback, most digital formats. I have one book available in audio: THE KEY.


Many thanks for the fun interviews and great questions and for having me visit the various blogs! :-)
---
Pauline Baird Jones began her writing career penning romantic suspense (fictional murder doesn't get you strip searched!) but she had a secret longing to ramp up the spills, chills and daring do. By chance she wrote a science fiction romance, realized she'd been mixing fiction into her science since high school (oops, sorry science teachers!), and thought, why not go where she hasn't gone before? After that, it was easy to stir in some steampunk. The Key was the first in her Project Enterprise series, which will conclude with #6, Kicking Ashe.
---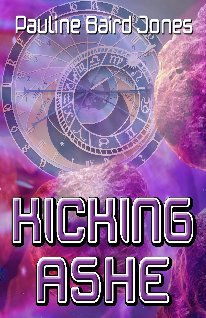 KICKING ASHE: With hearts and lives on the line, a kiss may be all they have time for…
Time has dumped Ashe on a dying planet and she needs to figure out why before she ceases to exist. Or gets vivisected by some Keltinarian scientists. Or worse.
Vidor Shan might help—since someone somewhere is trying to hose him, too—if she can convince him to trust her. Probably shouldn't have told him that only someone he trusts can betray him. Also wouldn't mind if he kissed her on the mouth.
Vid would love to kiss the girl, but his brother is lost, he's got hostile aliens on his tail, and the stench of betrayal all around him. Can he trust the woman who told him to trust no one?
Then a time quake hurls them to a nasty somewhere and some when…