Interview with Jessica Khoury
The Blog Ring of Power Presents…
An Interview with Author Jessica Khoury
Today debut author Jessica Khoury stopped by to talk about her Young Adult novel, "Origin" (Razorbill), coming September 2012. Jessica has had a whirlwind of success finding representation for this novel and I'm delighted that she stopped by to talk about her experience.

This is part two of a five-part interview. Be sure to check out the other BRoP sites for the rest of the interview: Part 1 Part 3 Part 4 Part 5

BRoP: What is your writing process? Do you follow a regular routine? Do you use pen and paper or computer? Work at home or at the library/Starbucks, etc.

Jessica: I work at home, on a computer, when the mood strikes. With Origin, that meant between the hours of 11pm and 3am every night for a month. Except for the chapters I wrote while on a road trip through the Southwest. Try balancing a laptop in a car full of people (some under the age of 5) while rumbling through the desert—not easy.

BRoP: How do you balance writing with other aspects of your life?

Jessica: I have to remind myself sometimes that I'm not just a writer. If they'd let me, I'd probably morph into some kind of troglodyte with a keyboard attached to my hands. I mainly rely on my husband to keep me sane and connected with the world. He'll pull me away when I need a break. Or when he can't stand the wreck the house has become, and he brings it to my attention. Which is a good thing, or I'd never notice the dirty dishes and laundry spilling out the doors and windows.

BRoP: When do you write?

Jessica: I write best between the hours of 11 pm and 3 am. I've tried to change that, to write during the day or at least early evening, but the fact remains I write better when the world is asleep.

BRoP: How much time per day do you spend on your writing?

Jessica: Depends. If I'm in the middle of a story, I'll stay there for hours—five, six, seven. If I'm between books, I'll just dabble for maybe a half hour or so with some side project.

BRoP: What has been the most surprising reaction to something you've written?

Jessica: I was surprised when agents started asking to see Origin, back when I started querying. It was the first real positive response I'd gotten to my writing outside of family member and friends and their obligatory compliments. Seeing my work praised by industry professionals was shocking, in all the most wonderful ways! I still wonder sometimes if they've got the wrong person, or somehow made a mistake. I don't know if it will ever be truly real to me, that people actually read and like what I make up.

BRoP: What is the strongest criticism you've ever received as an author? The best compliment?

Jessica: Strongest criticism—that my writing is too "cocky and self-aware." Best compliment? The phone call telling me I'd just gotten an offer for Origin.

BRoP: Other than your family, what has been your greatest source of support?

Jessica: Twitter! I've met a lot of wonderful readers and writers on there, and it's a great launchpad for connecting with them through other great sites like AgentQuery Connect, Hatrack River, and Blogger.

BRoP: How do you deal with rejection and/or negative reviews?

Jessica: I try to learn from it, first. Then I try to forget about it.

Where can your readers stalk you?

What format is your book(s) available in (print, e-book, audio book, etc.)?

It is available for pre-order for hardcover and Kindle at the moment.
---
Jessica Khoury is 22 years old and was born and raised in Georgia. She attended public school followed by homeschooling, and earned her bachelor's degree in English from Toccoa Falls College. She lives in Toccoa, Georgia with her husband Benjamin, two terrible dogs, and an abundance of books, shoes, and sweet tea. When not writing, she's usually directing stageplays or coaching soccer. Origin is her first novel.

---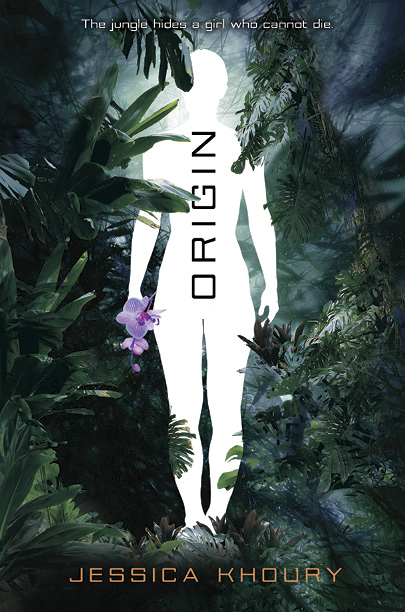 ORIGIN: Pia has grown up in a secret laboratory hidden deep in the Amazon rain forest. She was raised by a team of scientists who have created her to be the start of a new immortal race. But on the night of her seventeenth birthday, Pia discovers a hole in the electric fence that surrounds her sterile home--and sneaks outside the compound for the first time in her life.
Free in the jungle, Pia meets Eio, a boy from a nearby village. Together, they embark on a race against time to discover the truth about Pia's origin--a truth with deadly consequences that will change their lives forever.
Origin is a beautifully told, shocking new way to look at an age-old desire: to live forever, no matter the cost. This is a supremely compelling debut novel that blends the awakening romance of Matched with the mystery and jungle conspiracy of Lost.