Interview with Jacqueline Seewald
The Blog Ring of Power Presents...
An Interview with Author Jacqueline Seewald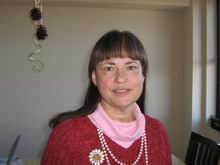 Today author Jacqueline Seewald stopped by to talk about herself and her latest book, DEATH LEGACY. She currently has eleven (yes ELEVEN) books in print and DEATH LEGACY is her third mystery. She's also written paranormal historical romance and YA stories, which makes her a versatile and well-rounded writer!



This is part five of a five-part interview. Be sure to check out the other BRoP sites for the rest of the interview:
Part 1 @ Teresa's site - Thursday, May 31
Part 2 @ Emily's site - Friday, June1
Part 3 @ Sandra's site - Monday, June 4
Part 4 @ Dean's site - Tuesday, June 5

BRoP: Tell us about your route to success –how did you land your agent/publisher?

Jacqueline: I don't have an agent, although I'd certainly like to have one. None have seen fit to represent me and so I've sold my own work. I currently have two book publishers: Five Star/Gale and L&L Dreamspell. I'm happy with both. Dreamspell has also published six of my short stories in anthologies—so far: mystery, romance, paranormal, science fiction, fantasy and horror.





BRoP: What are the most important elements of good writing?




Jaqueline: Creating vivid settings that readers will believe as well as characters that readers can care about are important for all types of novel and short stories. A well-developed plot is also a necessity. There should be some surprises, some twists and turns. Clever dialogue is crucial too. The writer needs to have a good imagination and a love of language.





BRoP: What tools are must-haves for writers?




Jacqueline: I keep a print dictionary beside me when I write. Nowadays, so much information is available on the internet that research has become much easier. But I still enjoy going to the library and using books and magazines there.



BRoP: Do you have any advice for other writers?


Jacqueline: Lots! If you really want to be a successful writer, you have to write, and by that I mean every day. Pick a time that suits you best, whether early morning, afternoon or evening. Make this your own special time. We can all be writers. We all have something special to say and tell because each of us is a unique individual.



BRoP: What do you feel is the key to your success?


Jacqueline: It's simple. I'm as persistent and tenacious as a pit bull. I won't give up. I keep writing and trying to improve my abilities.



BRoP: Do you have anything specific that you want to say to your readers?


Jacqueline: I'm still relatively unknown. So I hope more people will choose to read my work.



BRoP: What are your current / future project(s)?


Jacqueline: I've written a paranormal mystery novel with my older son entitled THE THIRD EYE. I'm in the midst of contract negotiations for the book. I also have two historical romances that need to find a home plus a paranormal contemporary. The fourth Kim Reynolds novel is also complete and ready for submission.



Where can readers can stalk you:
Website: http://www.lldreamspell.com/JacquelineSeewald.htm
Blog: http://authorexpressions.blogspot.com/
Amazon: http://www.amazon.com/Jacqueline-Seewald/e/B001JP0XOS
Barnes and Noble Online: http://www.barnesandnoble.com/s/jacqueline-seewald?keyword=jacqueline+seewald&;store=book


---
Multiple award-winning author Jacqueline Seewald has taught creative, expository and technical writing at the university level as well as high school English. She also worked as an academic librarian and an educational media specialist. Eleven of her books of fiction have been published. Her short stories, poems, essays, reviews and articles have appeared in hundreds of diverse publications. She enjoys spending time with family and friends when she isn't writing. In addition, she is a playwright, a landscape artist and loves many types of music.
---