Interview with Danielle Ackley-McPhail
The Blog Ring of Power Presents...
An Interview with Author Danielle Ackley-McPhail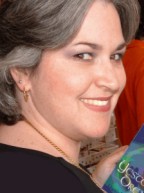 Today author Danielle Ackley-McPhail, stopped by to talk about his writing process and her Eternal Cycles Series--Yesterday's Dreams, Tomorrow's Memories, Today's Promise (don't you just love the titles?). If you're a writer, be sure to check out Danielle's Literary Handyman blog--it's amazingly helpful! Also, come back on Thursday for a guest post by Danielle on incorporating mythology into her writing!





This is part three of a five-part interview. Be sure to check out the other BRoP sites for the rest of the interview:
Part 1 @ Sandra's site-Monday, July 2
Part 2 @ Dean's site-Tuesday, July 3
Part 4 @ Teresa's site - Thursday, July 5
Part 5 @ Emily's site-Friday, July 6

BRoP: Where do you get your story ideas?


Danielle: There are two answers to this.





1) Outside stimulus. I see something, I hear something and that leads to a story idea. It could be something random, like a unique person I pass on the way to work, or it could be something someone says to me in a conversation. That's how I started writing my novels. A friend used to be a pawnbroker, from there my mind ran with it and Yesterday's Dreams was born.





2) Sometimes bizarre concepts just bubble up from the depths of my mind. I don't know why or when or how, they're just all of a sudden there. For instance, what if vampires were born and not turned? What would that be like? Why would it happen? I've started a novel based on this all because I had the thought one day "You know…we're all vampires before we're born." There are time I get as little as just one word and then have to figure out the story that is supposed to go around that. This happened with my story Looking Back, a tale of steampunk time travel that was recently accepted by Weird Tales. The one word in that instance was Futuraositor, followed by diurnalscope. (You can see why I had to go with steampunk, yes?)





In the end, there is a wide world around us, constantly feeding us information. Once it gets into the brain it stews about and you never know what it will transform into.



BRoP: Do you have a specific writing style?


Danielle: Hmmm…I would have to say that I am most known for my lyrical writing style. Not unexpected, seeing as I started out as a poet. But I have to admit that not everything fits that description. It really depends on what I'm writing. For instance, I write urban fantasy, steampunk, horror, high fantasy, and military science fiction. Not all of them develop the same way. The voice can be very different depending on what I write. However, even given that one thing that is very universal about my work is that it is character-oriented. You could say that one of my slogans is "The plot is what happens when you're getting to know the characters." I'm very into detail and emotion and back story, but I do balance it so that the plot isn't overwhelmed or lost.



BRoP: How do you deal with writer's block?


Danielle: I write in a very scatological manner, jumping from point to point depending on what inspires me. I'll start a scene and work on it as long as the idea keeps speaking to me, and then move to a different point in the story when I get stuck. One think I do if I just can't get myself started is to read over what I've already writing. I tweak it, I re-immerse myself in the story, and by the time I'm done I generally find inspiration to continue on to a new scene. Research helps too. I can't tell you how many elements made it into the books because I ran across something cool while I was researching that dovetailed with what I already had going on in the storyline. To tell you the truth, the only reason the Eternal Cycle series is a trilogy is because I named my bad guy in Yesterday's Dreams Olcas, which is one of the Irish words for evil. After I named him this I was doing some research and came across an actual figure in Irish mythology named Olcas, and the details integrated perfectly with the way I was developing this character! A happenstance led to a very solid plot line that carried me through three novels! And I could keep going if I wanted to. Still might, but it would be with a separate story arc, maybe following some of the secondary characters down their story trail…. It could happen!



BRoP: How do you develop your plots and characters? Do you use any set formula?


Danielle: Nope…they just kind of develop. I have some idea who they are and where they need to go, but a lot doesn't take shape until I'm already moving down the path. Once I have the basics of a story in place I may realize some character that needs to be there and that one might be more developed before I start writing them, but for the most part they are already a presence in my mind that I just have to uncover until things come clear.



BRoP: Do you use critique partners or beta readers? Why or why not?


Danielle: Definitely! Most definitely! Couldn't do what I do without them. I have two types of beta readers. One who reads as I write, and then other who read once everything is done. This is important because the author knows what has to happen and what is planned and what motivates the characters. Because of this knowledge they don't always realize when that knowledge hasn't actually made from their mind onto the page. Beta readers show you where the gaps are, help you realize when things are unclear or where you just goofed and put the wrong thing. It is always important to have another set of eyes on your work before it reaches the desk of an editor, particularly if you want to move beyond that desk to the production queue. I always try to have more than one beta reader or critique partner because it is good to get a variety of opinions and perspectives to catch as much as possible because (one can hope) you are going to reach a wide range of readers once you're published and what makes sense to one person won't necessarily make sense to another. Best to figure out where as many of the problems are right from the start and fix them, before they can count against your manuscript.



Where can readers can stalk you:
Blogs: http://lit_handyman.livejournal.com and http://damcphail.livejournal.com
Website: www.sidhenadaire.com
Twitter: https://twitter.com/#!/DMcPhail
Facebook: http://www.facebook.com/#!/danielle.ackleymcphail
Amazon author page: http://www.amazon.com/Danielle-Ackley-McPhail/e/B002GZVZPQ/ref=sr_ntt_srch_lnk_1?qid=1331314265&;sr=8-1
Goodreads: http://www.goodreads.com/author/show/989939.Danielle_Ackley_McPhail


BRoP: What format is your book available in (print, e-book, audio book, etc.)?


Danielle: Both



---
Award-winning author Danielle Ackley-McPhail has worked both sides of the publishing industry for over seventeen years. Her works include the urban fantasies, Yesterday's Dreams, Tomorrow's Memories, the upcoming Today's Promise, and The Halfling's Court, and the writers guide, The Literary Handyman. She edits the Bad-Ass Faeries anthologies and Dragon's Lure, and has contributed to numerous other anthologies.

She is a member of the New Jersey Authors Network and Broad Universe, a writer's organization focusing on promoting the works of women authors in the speculative genres.

---