Interview with Susan Kaye Quinn
The Blog Ring of Power Presents...
An Interview with Author Susan Kaye Quinn

Today author Susan Kaye Quinn stopped by to talk about her Mindjack Triology (the first two books are out already and the third should be out later this year or the beginning of next year), what it's like to be a fiction author AND a rocket scientist, and to share some words of widsom.






This is part five of a five-part interview. Be sure to check out the other BRoP sites for the rest of the interview:
Part 1 @ Teresa's site - Thursday, August 2
Part 2 @ Emily's site-Friday, August 3
Part 3 @ Sandra's site-Monday, August 6
Part 4 @ Dean's site-Tuesday, August 7


BRoP: Tell us about your route to success –how did you land your agent/publisher?


Susan: My first published novel (Life, Liberty, and Pursuit, a love story) went through a small press and had a kind of strange path getting there. A friend of mine, who had read the story, joined a small start-up press and they invited me to submit. I hadn't planned on publishing Life, Liberty, and Pursuit—I was writing another novel that I planned to shop to agents—and I wasn't at all sure about going with a small press, especially one that had just opened! But I took the leap, and I was so very glad I did: not because Life, Liberty, and Pursuit sold a gazillion copies (it didn't), but because it gave me an incredibly valuable experience about what it meant to publish a book. I shopped (and trunked) another novel (middle grade) before shopping Open Minds (Book One of the Mindjack Trilogy) to agents. I had a great response from agents, but ended up cutting my agent search short to self-publish Open Minds—another leap that I'm so glad I took. Closed Hearts (Book Two) just came out, as well as Mind Games (a short prequel). I love the freedom and control of indie publishing, although I'm still planning on submitting to agents for my middle grade projects, because I think that's the best way to reach the middle grade audience.



BRoP: Do you have any advice for other writers?


Susan: Network to find good critique partners and study the bestsellers in your genre. Those two things will take you far, and also are never-ending: your critique partner needs will evolve over time and so will your genre. It's good to keep fresh with both.



BRoP: What do you feel is the key to your success?


Susan: I wish there was a magic key, because I would share it with all my friends. I think there's really a dozen magic keys, and you need to have all of them to be successful—and that starts to sound more like luck. But I also believe in making my own luck, and here are the ingredients for that: 1) work like crazy to constantly improve your craft and storytelling skills, so every book you write is the best you can possibly produce at the time; 2) be willing to take risks in your craft and in your publishing journey; 3) make friends, pay it forward, help others by critiquing their stories, celebrating their milestones, and sharing your knowledge. And the most important thing of all? Have fun. I actually think this is the magic key, because if you're not enjoying your story, no one else will. If you're not enjoying the process, you won't be able to sustain it for the long haul. And when you're having fun, other people naturally want to join you—and that makes the journey so much easier.



BRoP: Do you have anything specific that you want to say to your readers?


Susan: Thank you, thank you, a thousand times thank you! For reading my work, for buying my books, for leaving 10 paragraph reviews analyzing the story. There's a saying that the writing is not complete until someone reads it. Readers complete the circuit and make it all worthwhile.



BRoP: What are your current / future project(s)?


Susan: I'm currently drafting Free Souls, the final book in the Mindjack Trilogy, as well as working my way through a series of short stories, called Mindjack Origins, that will look at the origins of some secondary characters in the Mindjack universe, telling their stories through their own point-of-view, prior to their debut in the series. I have several projects I would love to dive into after Mindjack is done, but I have some time before I have to decide. I hope to have Free Souls out by late 2012/early 2013.



Where can readers can stalk you:
Website: http://www.mindjacktrilogy.com
Blog: http://www.susankayequinn.com
Facebook page: http://www.facebook.com/susankayequinnauthor
Goodreads author page: http://www.goodreads.com/author/show/4094557.Susan_Kaye_Quinn
Twitter: https://twitter.com/#!/susankayequinn
Amazon: http://www.amazon.com/Susan-Kaye-Quinn/e/B003TTJRXU/ref=ntt_athr_dp_pel_pop_1
Smashwords: https://www.smashwords.com/profile/view/SusanKayeQuinn
Other: http://pinterest.com/susankayequinn/

BRoP: What format is your book available in (print, e-book, audio book, etc.)?


Susan: Print and ebook.



---
Susan Kaye Quinn grew up in California, where she wrote snippets of stories and passed them to her friends during class. She pursued a bunch of engineering degrees and worked a lot of geeky jobs, including turns at GE Aircraft Engines, NASA, and NCAR. Now that she writes novels, her business card says "Author and Rocket Scientist" and she doesn't have to sneak her notes anymore. All that engineering comes in handy when dreaming up paranormal powers in future worlds or mixing science with fantasy to conjure slightly plausible inventions. Susan writes from the Chicago suburbs with her three boys, two cats, and one husband. Which, it turns out, is exactly as much as she can handle.
---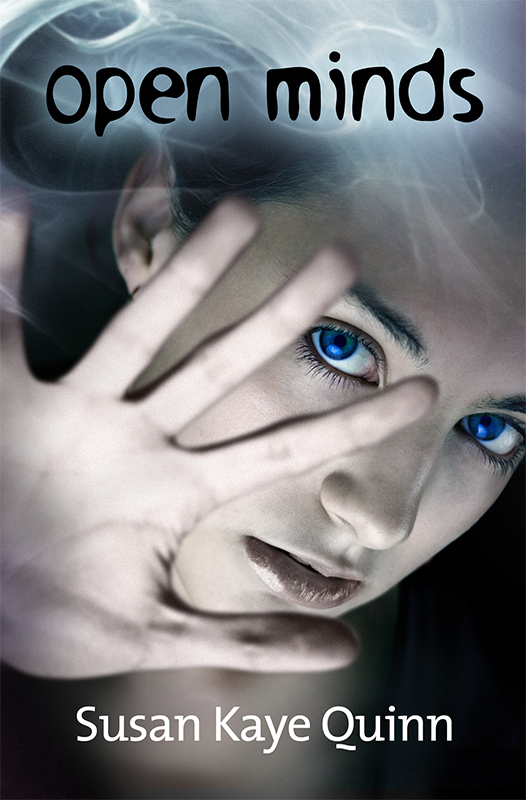 OPEN MINDS: Sixteen-year-old Kira Moore is a zero, someone who can't read thoughts or be read by others. Zeros are outcasts who can't be trusted, leaving her no chance with Raf, a regular mindreader and the best friend she secretly loves. When she accidentally controls Raf's mind and nearly kills him, Kira tries to hide her frightening new ability from her family and an increasingly suspicious Raf. But lies tangle around her, and she's dragged deep into a hidden underworld of mindjackers, where having to mind control everyone she loves is just the beginning of the deadly choices before her.











CLOSED HEARTS: Eight months ago, Kira Moore revealed to the mindreading world that mindjackers like herself were hidden in their midst. Now she wonders if telling the truth was the right choice after all. As wild rumors spread, a powerful anti-jacker politician capitalizes on mindreaders' fears and strips jackers of their rights. While some jackers flee to Jackertown–a slum rife with jackworkers who trade mind control favors for cash–Kira and her family hide from the readers who fear her and jackers who hate her. But when a jacker Clan member makes Kira's boyfriend Raf collapse in her arms, Kira is forced to save the people she loves by facing the thing she fears most: FBI agent Kestrel and his experimental torture chamber for jackers.