Interview with Suzanne Lilly
The Blog Ring of Power Presents...
An Interview with Author Suzanne Lilly


Today author Suzanne Lilly stopped by to tell us a little about herself and to talk about her young adult novel, Shades. I'm thrilled to be part of Suzanne's blog tour for Shades--be sure to check the other stops--and as part of the tour, Suzanne will be giving away a pair of designer sunglasses to one random commenter, so be sure to leave a comment for a chance to win! In addition, 10% of the royalties from the sale of this book will go to an animal rescue organization. Thank you Suzanne - from one animal lover to another - for supporting such a great cause!



This is part five of a five-part interview. Be sure to check out the other BRoP sites for the rest of the interview:
Part 2 @ Teresa's site - Thursday, August 22
Part 3 @ Emily's site - Friday, August 23
Part 4 @ Sandra's site - Monday, August 27
Part 5 @ Dean's site - Tuesday, August 28


BRoP: Tell us about your early works—what was the first thing you ever wrote?


Suzanne: The first thing I remember writing was a dystopian story in fifth grade about life after a nuclear disaster. I was aiming for a Bradbury-esque feel to my story, but considering the yawns from my friends, I wasn't very successful.



BRoP: When did you first consider yourself a professional writer?


Suzanne: When I received the first magazine in which one of my articles appeared. It was Cat Fancy magazine, and the article was about feline epilepsy. When I held that glossy magazine in my hands, I thought my star had arrived. My daughter was so excited, she went out and bought half a dozen copies.



BRoP: What genre do you write?


Suzanne: I write Young Adult Contemporary novels with a splash of suspense, a dash of romance, a flash of the unexplained, and always a happy ending.



BRoP: What is your favorite theme/genre to write about?


Suzanne: My favorite theme seems to be the unexplained in an ordinary life. I'm intrigued by occurrences such as knowing about something before it happens, or having a connection with someone thousands of miles away. People experience this on a day to day basis, yet often shrug it off as coincidence. I believe many times it's more than coincidence. I prefer to believe we have insight and connections greater than what we see on the surface.



BRoP: If you couldn't be an author, what would your ideal career be?


Suzanne: I've got it made here, because during the day, I'm a teacher. Actually, during the evenings too, since I spend a great deal of time at kids' sporting events, art, music, and drama performances, and school fundraisers. I came to teaching after a career in educational accounting. It was the perfect career move for me. Someday I hope to transition into full time writing, but I'd like to always keep my foot in the educational door. Young people inspire me!



BRoP: What format is your book available in (print, e-book, audio book, etc.)?


It's available and print and digital formats



Where can readers can stalk you:

Website | Blog | Facebook | Twitter | Goodreads | Amazon | Google+

---
Suzanne Lilly writes lighthearted young adult stories with a splash of suspense, a flash of the unexplained, a dash of romance, and always a happy ending. Her short stories have appeared in numerous places online and in print, and she has placed and received honorable mentions in writing contests. Her debut novel is Shades of the Future, (July 2012, Turquoise Morning Press) followed by Untellable, (February 2013.) She lives in Northern California where she reads, writes, cooks, swims, and teaches elementary students.
---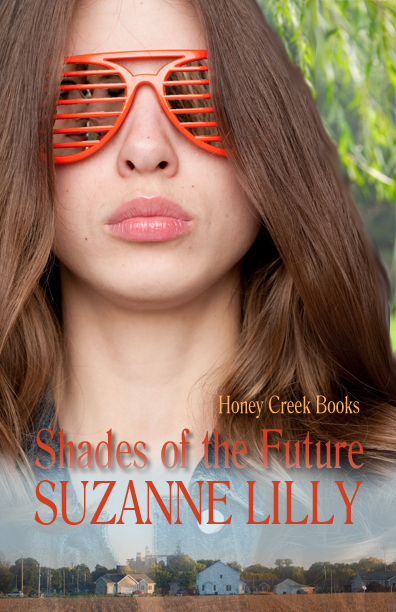 SHADES: What would you give to see the future? Would you make your dreams come true? Would you change the things you didn't like?

Mariah Davis loves animals, running, and her hunk of a boyfriend, Kevin Creamer. Everything looks bright for her until the day she finds a pair of sunglasses that allow her to see the future.

When she glimpses a disaster looming, she tries to avoid it but fails. She has a car accident that lands her in a wheelchair, smashing her hopes for a running scholarship to the veterinary program at Ohio State University. She pushes Kevin away, thinking he'll want to end their relationship now that she can't walk.

Will she ever learn to trust and love again? She could search for an answer in the sunglasses. But she's afraid what they reveal might destroy her.