2013 BRoP Year in Review #3 - Anne E. Johnson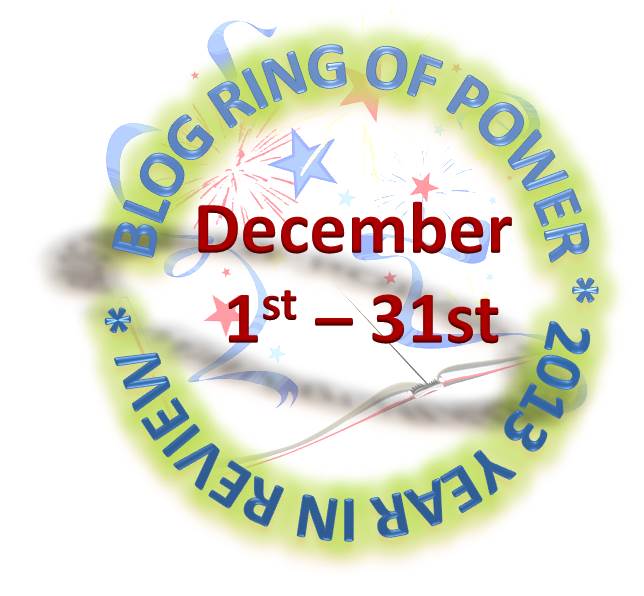 As 2013 comes to a close, we wanted to take a moment to reflect on some of the joys and triumphs of the year. To that end, we bring you the 2013 Blog Ring of Power Year in Review! We've teamed up with this past years' BRoP interviewees to bring you 25 days worth of "year in review" guest posts and 20 fabulous giveaway prizes! Each day we'll share a new guest post on the year in review from a previous BRoP interviewee and you'll have another opportunity to enter the giveaway—so get hopping! And be sure to enter the giveaway at the end of this post!



The Blog Ring of Power Year in Review Presents...
Anne E. Johnson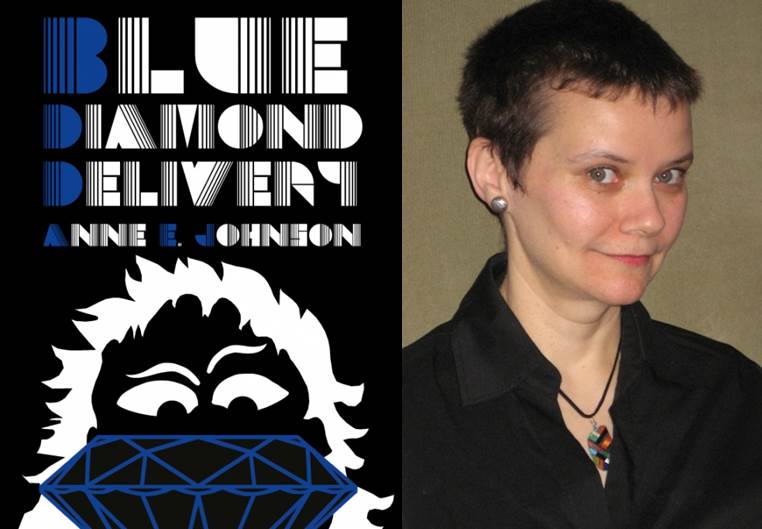 I was a guest on Blog Ring of Power in July, after my novel Blue Diamond Delivery launched as Book 2 of The Webrid Chronicles from indie publisher Candlemark & Gleam. It was the first time I'd had a sequel published, so I didn't know what to expect in terms of marketing and sales. To my surprise (albeit less surprising the more I think about it), the result of producing a sequel is not so much a focus on that particular book. Rather, the new volume draws attention to the series as a whole, with the result that new readers (understandably) want to start with Book 1. Thus the launch of Blue Diamond Delivery led to increased sales for Green Light Delivery, the first of the Webrid novels. I'm curious to see the effect that Book 3 has on this scenario. Red Spawn Delivery is currently in the works.

Meanwhile, I've had other, shorter pieces see the light of day. My medieval romance novelette, A Kiss at Vespers, was published as an ebook by MuseItUp Publishing in July. In August I was proud to have my dragon story, "Koob and Akilah," included in the debut issue of the wonderful new SF/F print magazine, FrostFire Worlds. I also write a lot of speculative fiction for children, and in October my spooky-sweet story "Rain Puddle Man" was published in the Halloween edition of Spaceports & Spidersilk. This was my sixth story for that e-zine.

More books are on the way, of course. As I continue drafting the third Webrid book, I've also embarked on a significant revision of my first YA novel, Space Surfers, which will be published by Candlemark & Gleam in the summer of 2014. I'm hoping this will be the start of a new, and quite different, science fiction series. And finally, in the fall of 2014 my first chapter book, a humorous science fiction tale called Launching the Lunchroom, for kids aged 7-10, will be released by 4RV Publishing.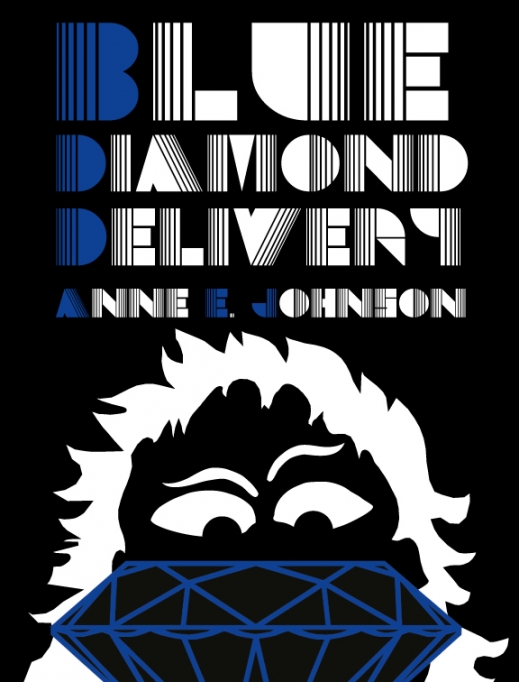 ---
Drawing on her eclectic background, which includes degrees in classical languages and musicology, ANNE E. JOHNSON has published in a wide variety of topics and genres. She's written non-fiction books for children with the Rosen Group and feature articles for adults in serials such as The New York Times and Stagebill Magazine. As the author of nearly thirty published short stories, she has won writing prizes for both children's and adults' short fiction. Anne lives in Brooklyn with her husband, playwright Ken Munch.

You can find Anne at:
Website | Blog | Facebook | Goodreads | Twitter | Amazon Author Page | Google+



And be sure to check out her July 2013 interview with the Blog Ring of Power:
Part 1 | Part 2 | Part 3 | Part 4 | Part 5


And now for the giveaway!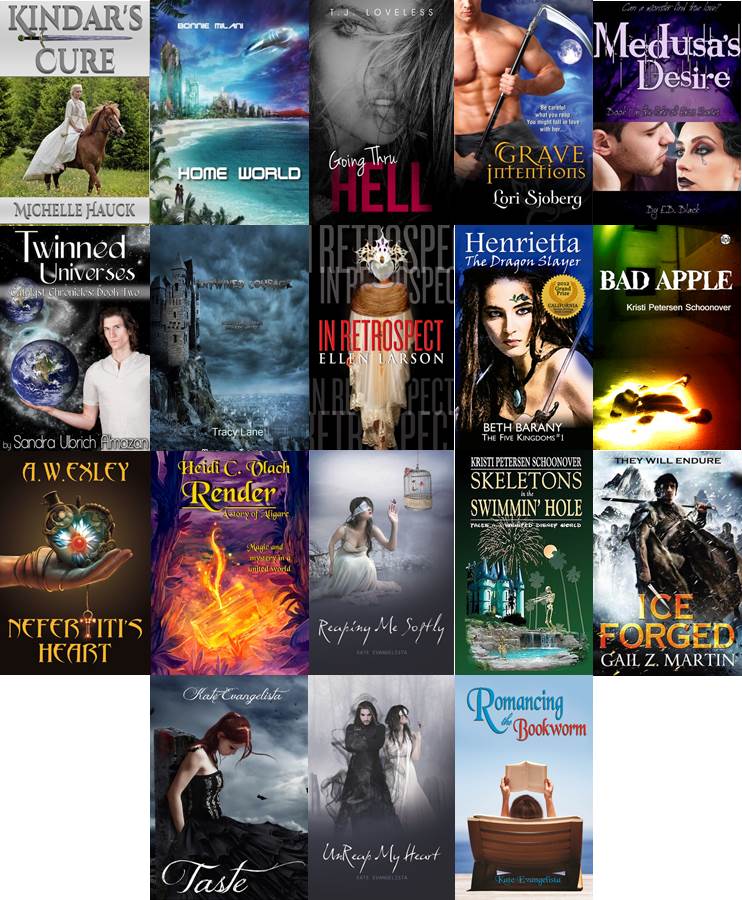 Prizes:
$25 Amazon Gift Card from T. J. Loveless
$10 Amazon gift card from Terri Bruce
ebook copies of Render (A story of Aligare) by Heidi Vlach (3 copies)
ebook copy of Home World by Bonnie Milani
ebook copy of Trades by Bonnie Milani
ebook copy of Nefertiti's Heart by A. W. Exley
paperback copy of Going Thru Hell by T. J. Loveless
ebook copy of Medusa's Desire by E. B. Black
signed hardcover first edition of In Retrospect by Ellen Larson
paperback copy of Bad Apple by Kristi Petersen Schoonover (2)
paperback copy of Skeletons in the Swimming Hole by Kristi Petersen Schoonover (2)
ebook copy of Grave Intentions by Lori Sjoberg
copy of Henrietta the Dragon Slayer by Beth Barany (print for U.S. or ebook for Int. winner)
ebook copy of Twinned Universes by Sandra Ulbrich Almazan
ebook copy of Entwined Courage by Tracy Lane
ebook copy of Kindar's Cure by Michelle Hauck
signed paperback of Ice Forged by Gail Martin
ebook copies of Taste, Reaping Me Softly, & Unreap My Heart by Kate Evangelista
ebook copy of Romancing the Bookworm by Kate Evangelista

Winners will be chosen from among eligible rafflecopter entries (chosen by rafflecopter) and receive a prize of our choice (from the list above). We'll do our best to give the print books to those that don't have an e-reader, but we can't make any guarantees, so please be aware when entering that you are most likely going to win an e-book. Entering is easy, just use the rafflecopter below!
a Rafflecopter giveaway


Be sure to stop to check out each of the stops on the Year In Review – new chances to enter the giveaways each day!