2013 BRoP Year in Review #18 - Terri Bruce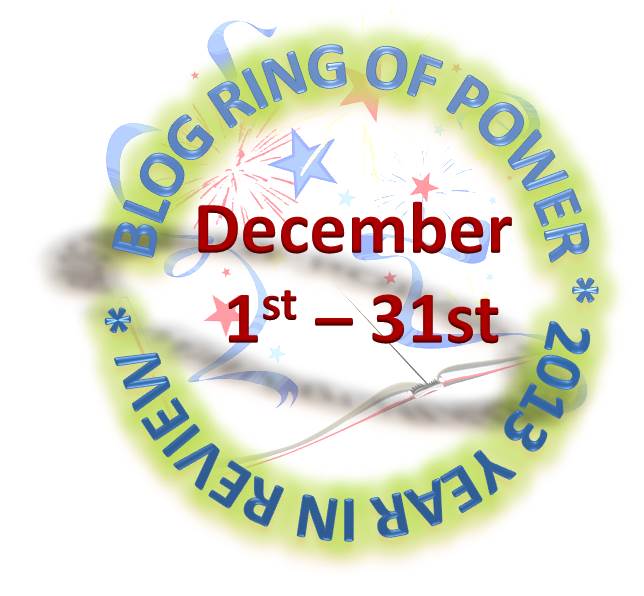 As 2013 comes to a close, we wanted to take a moment to reflect on some of the joys and triumphs of the year. To that end, we bring you the 2013 Blog Ring of Power Year in Review! We've teamed up with this past years' BRoP interviewees to bring you 25 days worth of "year in review" guest posts and 20 fabulous giveaway prizes! Each day we'll share a new guest post on the year in review from a previous BRoP interviewee and you'll have another opportunity to enter the giveaway—so get hopping! And be sure to enter the giveaway at the end of this post!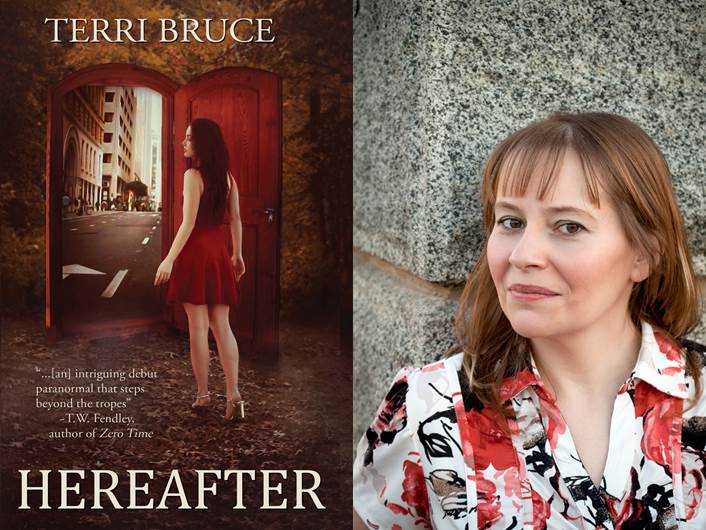 So, what have I been up to? Well, as you know, 2013 was full of ups and downs. I started the year excited at the prospect of my second novel, Thereafter, coming out in May. By the end of April, I was involved in a dispute with the publisher that consumed most of my summer and the book was pulled. I kept writing during that time, working on the third book of the Afterlife Series, as well as a science fiction space opera and some short stories. The outpouring of support I received, from so many unexpected quarters, humbled and amazed me and is certainly what kept me going. By fall, I had secured the return of rights to me of the books in the Afterlife Series and parted ways with the publisher.

I decided to take the plunge into self-publishing in order to get the series back to market as quickly as possible. I've spent the last few months learning the technical aspects of self-publishing—how to lay out a print book interior, how to format for CreateSpace, how to format the various ebook files, etc. I was lucky enough to get the artist of my dreams for the book covers, a young woman whose work I've admired for a while, and a great editor. The innumberable author friends I've made over the last few years have all come to my aid, holding my hand and talking me through self-publishing, and I feel really grateful that the world is full of so many kind, wonderful people, willing to help each other out. Everything has been coming together and I'm hopeful that I will be able to hit the "publish" button by December 31st.

I've targeted May 1, 2014 as the release date for Thereafter and I should have cover art to share with all of you soon. In the meantime, I've almost finished the first draft of the third book of the series and I'm also hopeful that I'll be able to finish the space opera within the first half of 2014. I've found an amazing new group of critique partners, which is helping to make sure I keep on track with hitting my self-imposed deadlines. Also for 2014, I want to write more short stories. One of my goals is to get a short story accepted to an anthology. I also really want to get a story into Clarkeworld.

Thank you so much everyone for your support and kindness—I could not have made it through 2013 without all of you! The best part of being an author has been the new friends I've made and the wonderful people I've met, and I'm looking forward to seeing what 2014 brings!

Happy New Year!




And now for the giveaway!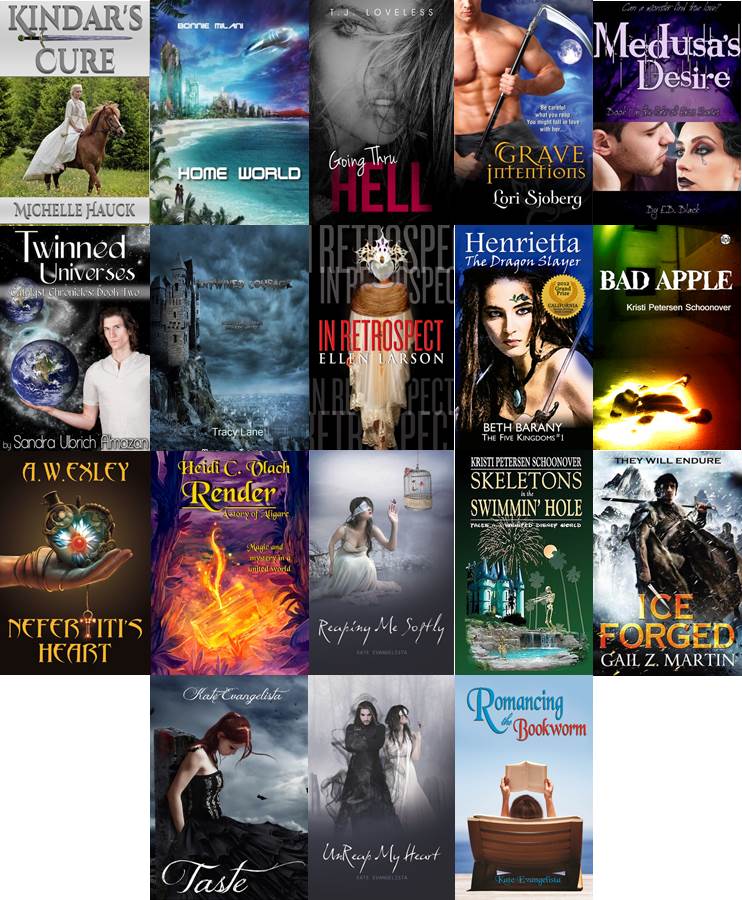 Prizes:
$25 Amazon Gift Card from T. J. Loveless
$10 Amazon gift card from Terri Bruce
ebook copies of Render (A story of Aligare) by Heidi Vlach (3 copies)
ebook copy of Home World by Bonnie Milani
ebook copy of Trades by Bonnie Milani
ebook copy of Nefertiti's Heart by A. W. Exley
paperback copy of Going Thru Hell by T. J. Loveless
ebook copy of Medusa's Desire by E. B. Black
signed hardcover first edition of In Retrospect by Ellen Larson
paperback copy of Bad Apple by Kristi Petersen Schoonover (2)
paperback copy of Skeletons in the Swimming Hole by Kristi Petersen Schoonover (2)
ebook copy of Grave Intentions by Lori Sjoberg
copy of Henrietta the Dragon Slayer by Beth Barany (print for U.S. or ebook for Int. winner)
ebook copy of Twinned Universes by Sandra Ulbrich Almazan
ebook copy of Entwined Courage by Tracy Lane
ebook copy of Kindar's Cure by Michelle Hauck
signed paperback of Ice Forged by Gail Martin
ebook copies of Taste, Reaping Me Softly, & Unreap My Heart by Kate Evangelista
ebook copy of Romancing the Bookworm by Kate Evangelista

Winners will be chosen from among eligible rafflecopter entries (chosen by rafflecopter) and receive a prize of our choice (from the list above). We'll do our best to give the print books to those that don't have an e-reader, but we can't make any guarantees, so please be aware when entering that you are most likely going to win an e-book. Entering is easy, just use the rafflecopter below!

a Rafflecopter giveaway


Be sure to stop to check out each of the stops on the Year In Review – new chances to enter the giveaways each day!