Top Ten Tuesday: 2014 Debuts

Top Ten Tuesday is a great meme created by Jamie at The Broke and the Bookish that combines top ten lists and books. She's come up with a great list of weekly discussion topics and I hope you'll join in the discussion by commenting on this post or some of the other ones (you can find the list of participating blogs in this week's post on her site).

This week's topic is Top Ten 2014 Debuts I'm Excited For.

Guys, guess what? I personally know the authors of all of the books on my list this week! That's why I'm so excited for these debuts-- these are wonderful writer friends that I met as we struggled through slush-pile hell on our way to getting published, and I'm so thrilled that they will all get their day in the sun this year!!
Best Sneakers | Footwear


1. The Impending Demise of the Girl With Brown Eyes by Tracy Jorgensen (February 2014 - Immortal Ink Publishing)
Even in a world without names, where neighborhoods are built on giant pillars and magic lurks in dark corners of humanity, usual people meet in typical ways—at work or by hiring a matchmaker. Boys do not meet girls sitting on their own headstones, or while running from giant cougar-like creatures. However, the Girl with Brown Eyes is not a usual girl. And the Boy, still with no title, is about to find that out for himself.

The Boy has no idea why mutant beasts keep attacking him. It's possible he spends too much time strolling through cemeteries. But, maybe these attacks aren't random at all. Perhaps they are attempted murder, though nobody believes his claims. Yet. That all changes when the Boy plummets off his home pillar while being pursued by a flying monstrosity. The Girl with Brown Eyes is there – if not to save his life, then to at least verify his tale.

Now, unsure if she's trustworthy or even where she came from, the Boy must make his way back up the pillars and discover who his assailant is . . . lest they learn the dangerous secret of the impending demise of the Girl with Brown Eyes.


2. Division Zero by Matthew S. Cox (March 7, 2014 - Curiosity Quills Press)
Most cops get to deal with living criminals, but Agent Kirsten Wren is not most cops.

A gifted psionic with a troubled past, Kirsten possesses a rare combination of abilities that give her a powerful weapon against spirits. In 2418, rampant violence and corporate warfare have left no shortage of angry wraiths in West City. Most exist as little more than fleeting shadows and eerie whispers in the darkness.

Kirsten is shunned by a society that does not understand psionics, feared by those who know what she can do, and alone in a city of millions. Every so often, when a wraith gathers enough strength to become a threat to the living, these same people rely on her to stop it.

Unexplained killings by human-like androids known as dolls leave the Division One police baffled, causing them to punt the case to Division Zero. Kirsten, along with her partner Dorian, wind up in the crosshairs of corporate assassins as they attempt to find out who – or what – is behind the random murders before more people die.

She tries to hold on to the belief that no one is beyond redemption as she pursues a killer desperate to claim at least one more innocent soul – that might just be hers.


3. Far From You by Tess Sharpe (April 8, 2014 - Disney-Hyperion)
Sophie Winters nearly died. Twice.

The first time, she's fourteen, and escapes a near-fatal car accident with scars, a bum leg, and an addiction to Oxy that'll take years to kick.

The second time, she's seventeen, and it's no accident. Sophie and her best friend Mina are confronted by a masked man in the woods. Sophie survives, but Mina is not so lucky. When the cops deem Mina's murder a drug deal gone wrong, casting partial blame on Sophie, no one will believe the truth: Sophie has been clean for months, and it was Mina who led her into the woods that night for a meeting shrouded in mystery.

After a forced stint in rehab, Sophie returns home to a chilly new reality. Mina's brother won't speak to her, her parents fear she'll relapse, old friends have become enemies, and Sophie has to learn how to live without her other half. To make matters worse, no one is looking in the right places and Sophie must search for Mina's murderer on her own. But with every step, Sophie comes closer to revealing all: about herself, about Mina and about the secret they shared.


4. Dark Paradise by Angie Sandro (July 1, 2014 - Grand Central/Forever Yours)
*The cover reveal for this book takes place on Wednesday, January 15th and I'm participating, so check back on Wednesday to see the cover!

When twenty-year-old Malaise LaCroix finds a dead girl floating in the bayou, she makes the mistake of reporting the murder to the police. She's naive enough to think the girl's parents will be grateful, but Mama warns her otherwise and hints at a darkness to come.

Mala has always written off Mama's interest in hoodoo as a quirk, more comical than some of her other habits. Unlike Mama, Mala thinks that believing in magic is for weak-minded fools. Until the dead girl starts haunting her.

The town believes that Mala's great aunt was a New Orleans Hoodoo Queen, a descendent of the famous Seven Sisters. Cruel rumors have followed Mala her whole life, but now that she's considered a suspect in the murder case, the rumors don't seem so harmless. Even Landry, who's had a crush on Mala for years, seems afraid to stray too close.

The girl's desperate spirit needs Mala's latent psychic gift, willing or not, to expose her murderer. And once the girl's father, Reverend Prince, learns his daughter's body has been drained of blood in what he assumes is a satanic ritual, he sets out on an old-fashioned witch-hunt.

Mala knows the killer is still lurking nearby. To keep from becoming the murdered girl's possession, or worse, Mala must accept the mysterious aspects of her family's blood-stained hoodoo lineage. Landry proves to be an unlikely source of help. Trouble is, he seems to have his own agenda.


5. Extraction by Stephanie Diaz (July 22, 2014 - St. Martin's Griffin)
"Welcome to Extraction testing."

Clementine has spent her whole life preparing for her sixteenth birthday, when she'll be tested for Extraction in the hopes of being sent from the planet Kiel's toxic Surface to the much safer Core, where people live without fear or starvation. When she proves Promising enough to be "Extracted," she must leave without Logan, the boy she loves. Torn apart from her only sense of family, Clem promises to come back and save him from brutal Surface life.

What she finds initially in the Core is a utopia compared to the Surface—it's free of hard labor, gun-wielding officials, and the moon's lethal acid. But life is anything but safe, and Clementine learns that the planet's leaders are planning to exterminate Surface dwellers—and that means Logan, too.

Trapped by the steel walls of the underground and the lies that keep her safe, Clementine must find a way to escape and rescue Logan and the rest of the planet. But the planet leaders don't want her running—they want her subdued.

With urgent writing, fluid dialogue, and a cast of unforgettable characters, Extraction is a page-turning, gripping read, sure to entertain lovers of Hunger Games and Ender's Game and leave them breathless for more.


6. Crown of Ice by Vicki L. Weavil (December 2014 - Month9Books)
*Note: Cover coming soon (Vicki hasn't told us the date of her cover reveal yet, but has said that she's seen the cover, so it'd done).

Thyra Winther's seventeen, the Snow Queen, and immortal, but if she can't reassemble a shattered enchanted mirror by her eighteenth birthday she's doomed to spend eternity as a wraith.

Armed with magic granted by a ruthless wizard, Thyra schemes to survive with her mind and body intact. Unencumbered by kindness, she kidnaps local boy Kai Thorsen, whose mathematical skills rival her own. Two logical minds, Thyra calculates, are better than one. With time rapidly melting away she needs all the help she can steal.

A cruel lie ensnares Kai in her plan, but three missing mirror shards and Kai's childhood friend, Gerda, present more formidable obstacles. Thyra's willing to do anything – venture into uncharted lands, outwit sorcerers, or battle enchanted beasts -- to reconstruct the mirror, yet her most dangerous adversary lies within her breast. Touched by the warmth of a wolf pup's devotion and the fire of a young man's desire, the thawing of Thyra's frozen heart could be her ultimate undoing.

CROWN OF ICE is a YA Fantasy that reinvents Hans Christian Andersen's "The Snow Queen" from the perspective of a young woman who discovers that the greatest threat to her survival may be her own humanity.


7. Stitching Snow by R. C. Lewis (2014 - Disney-Hyperion)
Princess Snow is missing.

Her home planet, once known for lush landscapes, is now filled with violence, fear, and corruption at the hands of King Matthias and his wife as they attempt to punish her captors. King Matthias will stop at nothing to get his beloved daughter back—but that's assuming she wants to return at all.

Essie has grown used to being cold. Temperatures on the planet Thanda are always sub-zero, and she fills her days with coding and repairs for the seven loyal drones that run the local mines.

When a ship crash-lands near her home piloted by a mysterious young man named Dane, Essie agrees to help him repair his craft. But soon she realizes that Dane's arrival was far from accidental, and she's pulled into the heart of a war she's risked everything to avoid.

In her enthralling debut, R. C. Lewis weaves the tale of a princess on the run from painful secrets—and a poisonous queen. With the galaxy's future—and her own—in jeopardy, Essie must choose who to trust in a fiery fight for survival.


8. Zero Time by T. W. Fendley (unknown release date)
*Note: this novel (the authors debut novel) was first published in 2011; however, the rights have returned to the author and she will be re-releasing this novel herself, so this will be her debut as a self-published author, which is why I included it on this list.

As Zero Time nears, only Keihla Benton can save two worlds from the powers of Darkness. But first she must unlock the secrets of Machu Picchu and her own past.Xmucane leads an expedition to Earth to overcome a genetic flaw that threatens the people of Omeyocan with extinction, but she soon finds herself involved in a very personal battle that pits mother against daughter and sister against sister. With the help of the time-traveling Great Serpent Quetzalcoatl, she leaves the Southern Temples to arrive in present-day Machu Picchu as the expedition's time-window closes. When Philadelphia science writer Keihla Benton joins an archeological team at Machu Picchu, she learns the Andean prophesies about 2012 have special meaning for her. Only she can end the cycle of Darkness that endangers Earth at the end of the Mayan calendar. As she uncovers secrets from the past, which threaten her life and those she loves, Keihla struggles to keep the powerful Great Crystal from the Lord of Darkness and his consort.Xmucane and Keihla work together as Earth and Omeyocan near alignment with the galaxy's dark heart for the first time in 26,000 years. They must seize the last chance to restore the cycle of Light to Earth and return to the Pleiades with a cure, no matter what the cost to their hearts.


And there you have it—the top debuts of 2014 that I'm looking forward to. What are yours? Share them in the comments below!

And remember—support bloggers. If you read it, comment on it! :-)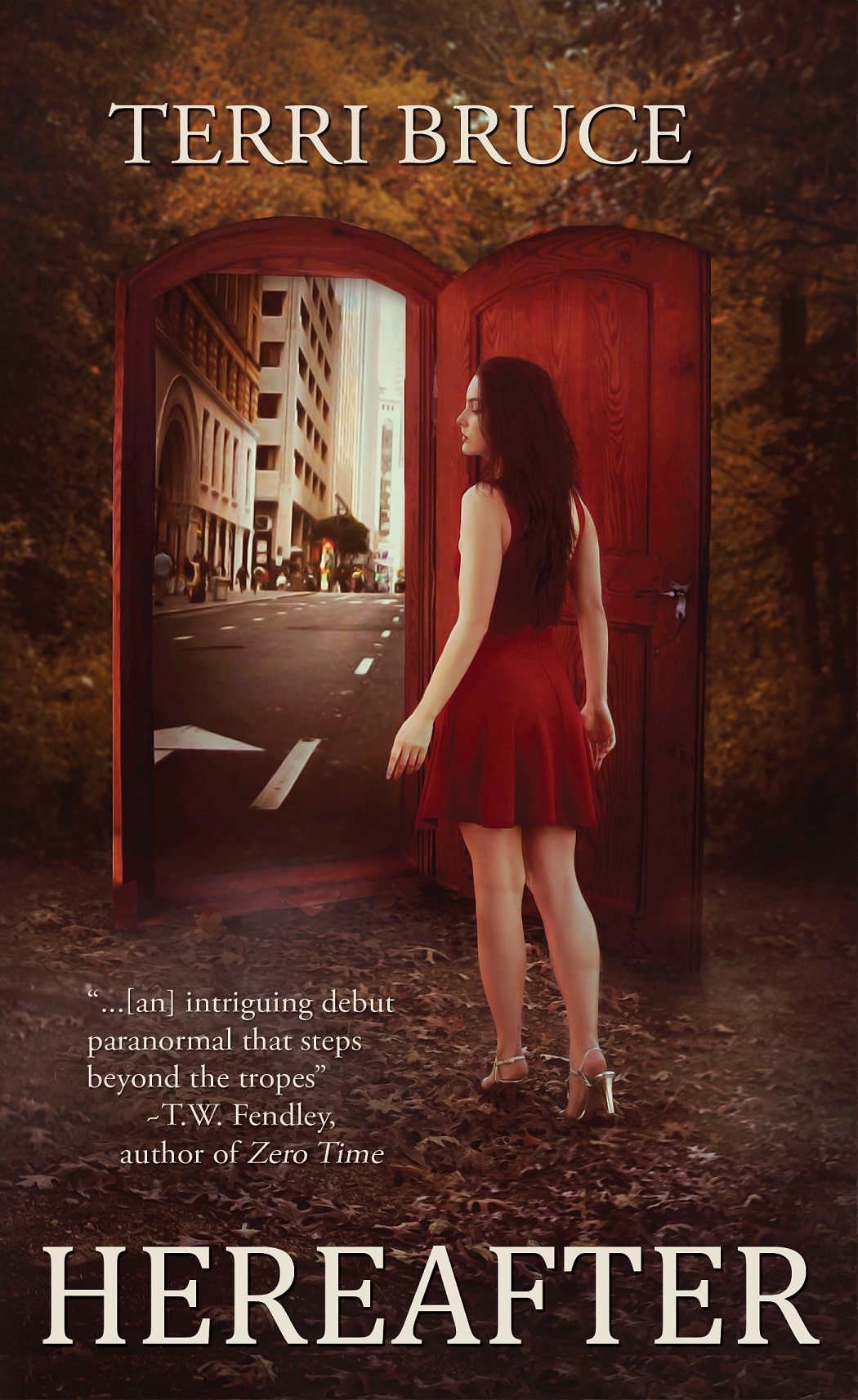 ---
TERRI BRUCE writes science fiction and fantasy stories with a literary bent from a haunted house in New England where she lives with her husband and three cats. Look for her contemporary fantasy
Hereafter
(Afterlife #1)

coming...NOW! IT'S OUT NOW!!! ::Kermit flail::
---